Fall in love at first sight
It only takes one glance to know that the twin Highline towers will change your life forever.
Thanks to their stylish, ultra-modern architectural design, this striking pair of 29-story towers have become a prominent landmark in the city skyline.
The buildings' façade, in particular, has set an entirely new standard for prestige, beauty, and exceptional design, which is reflected in every single detail.
Choose from a variety of 2, 3, and 4-bedroom apartments and luxurious penthouses of various sizes: midi penthouse, maxi penthouse and a huge penthouse, all with outstanding construction standards that never compromise on quality.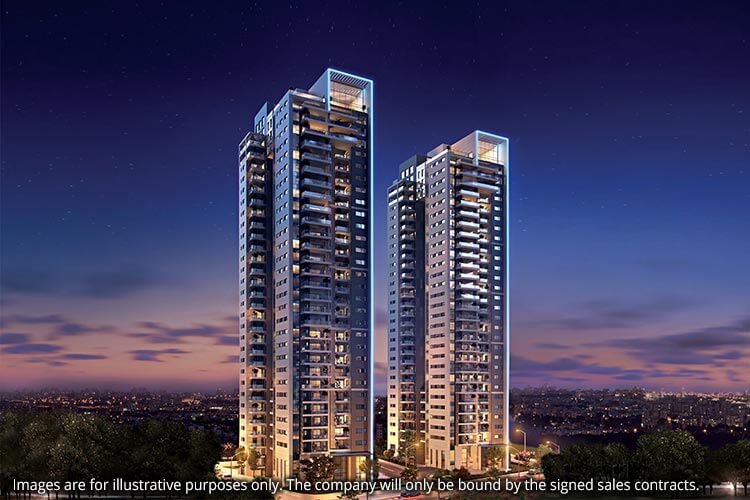 Location, location, location
Highline's location is, without question, one of its outstanding advantages.
The towers are built on the quiet side of Matmid Street in Ramat Gan – one of the most enchanting locales within the Tel Aviv Metropolitan Area. Close by, you will find many appealing green parks and landscaped gardens, which are the perfect setting for a fun afternoon out with the children.
Whenever you're in the mood for a little more excitement, you can always set your sights on Tel Aviv's bright lights, just a few minutes away. Yarkon Park, Tel Aviv Port and all the city's most popular entertainment centers are right on your doorstep.
All you need to do is decide what today's adventure will be.
There's nothing like a first impression, and you'll understand precisely what that means as soon as you enter your new home.
Every Highline apartment features a unique, innovative architectural design that is reflected in every detail of its meticulous planning, from the modern kitchen with premium specifications, through the luxurious bathrooms, spacious lounge, and functionally-designed rooms, to the magnificent balconies overlooking spectacular views of Tel Aviv and the surrounding area.
The magnificent view from your apartment's balcony will make you rub your eyes in disbelief every time. Simply enjoy a pleasant breeze, soak in the wondrous sight of the Tel Aviv skyline and its surroundings, and marvel at the spectacular beauty of the evening sunset.
There's no more magical way to begin and end the day.
Everyone fantasizes about superior quality of life, but not everyone enjoys it. At Highline Towers, we have thought about everything that can make your residential experience perfect down to the last detail.
From a private fitness room to a luxurious residents' club and opulent lobby, you have everything you need to enjoy the quality of life you've always wanted.