Exceptional 4-room penthouse on one level with very good performance under construction with a surface area of 108 m², with a large terrace of 47 m² and accompanied by a 16 m² balcony with beautiful unobstructed views, composed of 'an entrance, a beautiful living room, a fitted kitchen, three bedrooms, two bathrooms.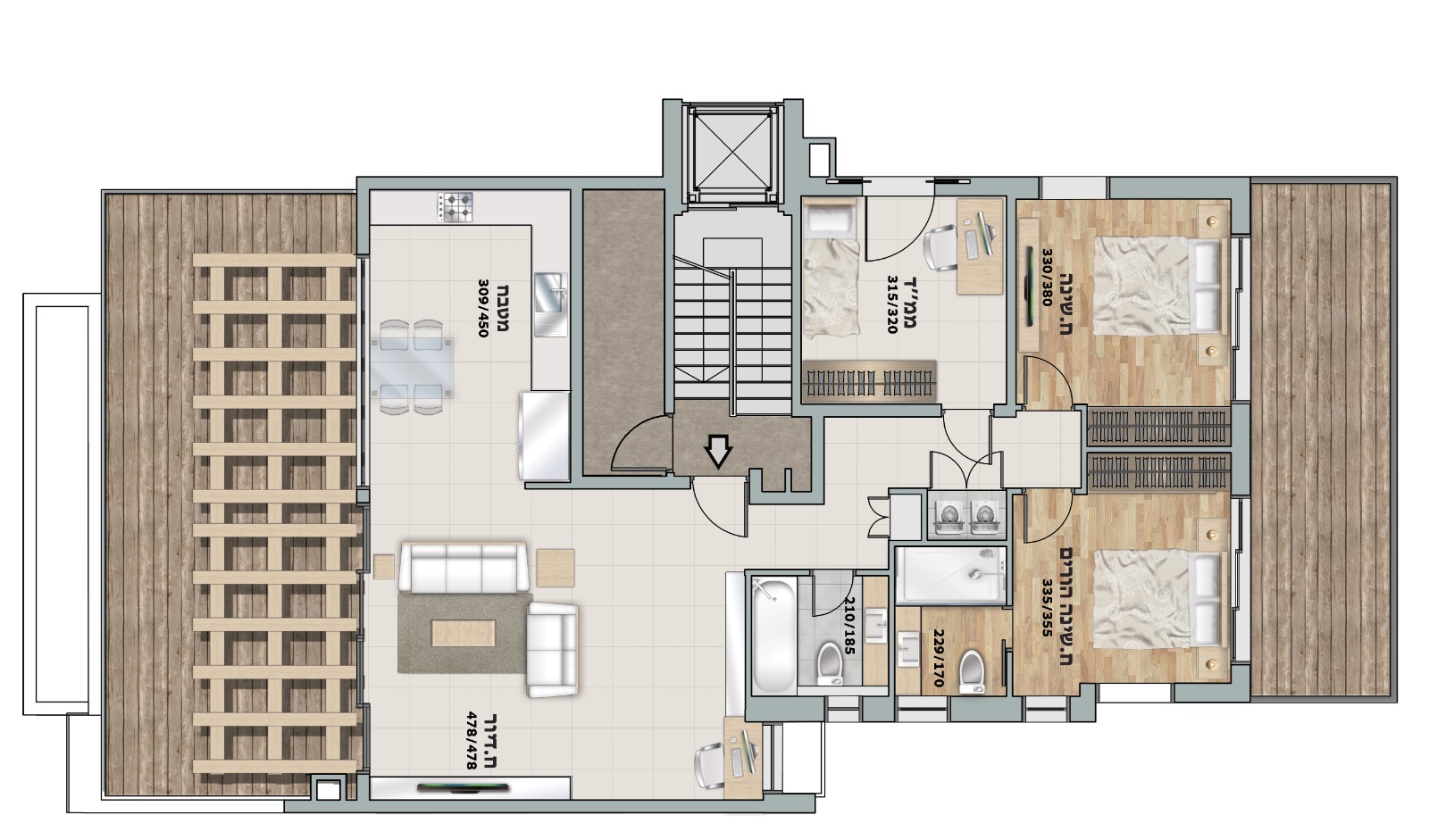 Main technical characteristics
Parking in an automatic installation.
Dada kitchens from Avivi / Regba or the same standard.
Flat kitchen sink with removable faucet.
Porcelain granite floor 100/100 at the base price of ₪ 200 / m².
Possibility of three-layer parquet with a high standard on the basic floor at the basic price of ₪ 200 / m².
R-10 non-slip porcelain granite tiles on the floor and ceramic coating up to the ceiling in the bathrooms at a base price of ₪ 150 / m².
Wall-hung toilets and concealed cisterns start at ₪ 1400.
Nobilli or Hansgroe or similar standard taps.
Integrated (washable) sinks with a cupboard in the bathrooms that the customer can choose from the project supplier at the base price of ₪ 3800 per unit.
Duravit or similar standard sanitary ware.
There is a marble or porcelain granite in the kitchen to choose from in several shades.
Fancy interior doors from the Pandor Unique series.
A door with multiple bolts is designed at the entrance of the apartment.
Intercom with CCTV to open the hall doors and identification.
Insulated aluminum windows with double-glazing.
Intelligent electrical system.
High quality electrical accessories.
Electric roller shutters throughout the apartment with SOMFY or NICE motors.
Three-phase electricity.
Telephone and TV socket in each room.
Preparation for a home theater system in the living room.
IPA on the sunny terrace of the apartment or the flooring of your choice.
Central air conditioning system.
Improvement of sound insulation between apartments, public spaces.
High quality thermal insulation in the exterior envelope of the apartment.
Building specifications
Modern elevator for 4 passengers.
Lobby designed by the interior designer.
Staircase renovated in architectural design.
Fancy letterboxes.
Automatic basement parking.
Public shelter in the basement.
Video surveillance system for the hall entrance combined with camera and encoder to open the door.
Note: The Company may provide an equivalent brand / product for each of the items listed above.